Safe, needle-free plastic and vinyl welder
Easy to weld by holding the hand piece like a stapler at the point to be welded.
Ideal for fixing food containers, food packs, and vinyl packaging
・The ultrasonic vibration (60,000 times per second) welds safely and easily.
・The handpiece is lightweight and compact, easy to use even for small hands, and can be stored in the main body.
・No metal needle, tape, or adhesive is used. The contact surfaces of the materials are instantaneously melted and adhered together.
・The material does not get mixed in with the contents, making it easy to sort trash at the time of disposal.
・The empty welding prevention function improves durability.
・Simply grip the item to be secured. Ultrasonic vibration turns on and off automatically.
・No pre-heating is required.
・The optional welding metal fittings for a tamper-evident seal can be used to check whether the packs have been opened or not.
・The main unit is compact and lightweight, and can be used anywhere. A suction cup stopper is included to prevent the unit from falling.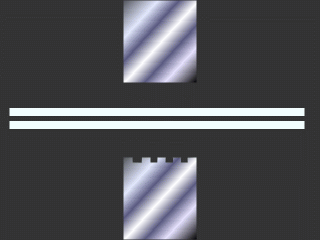 Resin is welded using frictional heat generated by ultrasonic vibration.
(The heat generated is instantaneous and the welded part does not get hot.)
・For fixing plastic containers (OPS, A-PET) and net packaging such as food packs.
・For temporary fastening of synthetic fiber garments.
・Fixing of plastic bags and blister packs.
・Fixing of packaging films such as industrial films and plastic tapes (tags, gardening tapes)
・Fixing of packing containers such as parts packs and blister packs.
*This product is not suitable for sealing plastic bags to prevent moisture.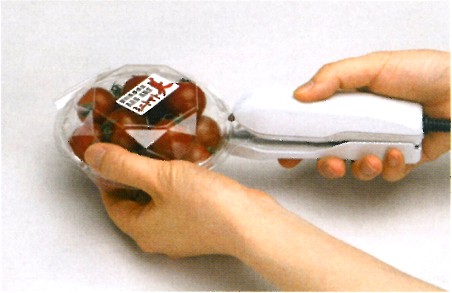 Food pack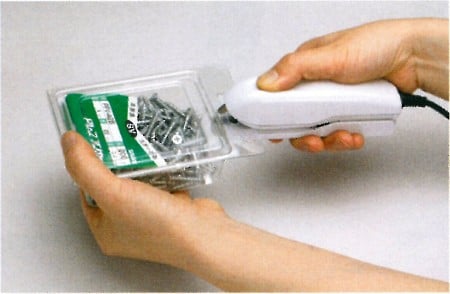 Blister pack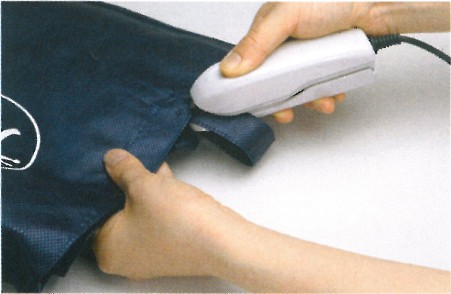 Nonwoven fabric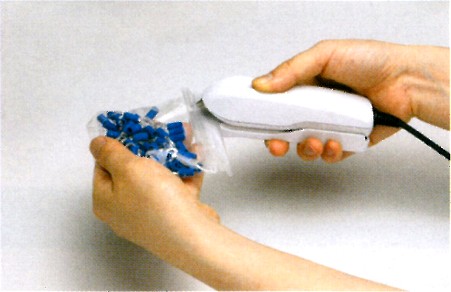 Polyethylene bag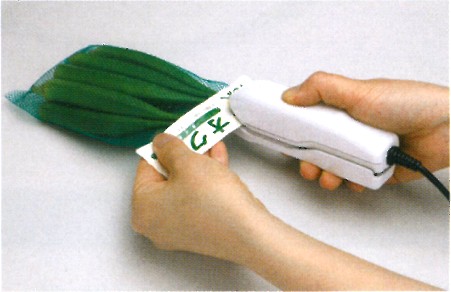 Netting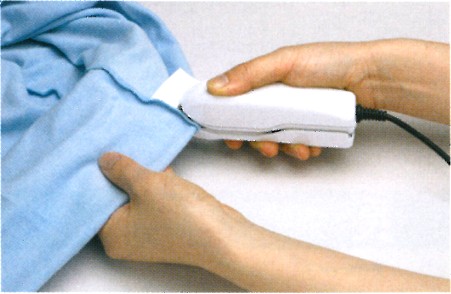 Apparel (Fabrics)
Model
SONAC-37
Oscillation method
Self-oscillation
Rated output
20W
Nominal oscillation frequency
57kHz
Power input
AC100V 50/60Hz 30W
Dimensions
(WxDxHmm)
(Excluding protruding parts)
Main unit
70x220x165
Hand Piece
32x125x49
Weight
920g
■Accessories: Welder clasp (YK01)
●Transducer:Bolt-clamped Langevin type transducer
●Protective device: Thermostat, empty welding prevention function
●Effective welding range: 6x3mm
●Power cable length: 1.5m
●Output cable length: 0.5m (curled cord)
●Optional accessory: Welder clasp (YK02)
*A hole is created in the package when the seal is broken, making it easy to recognize whether or not the package has been opened.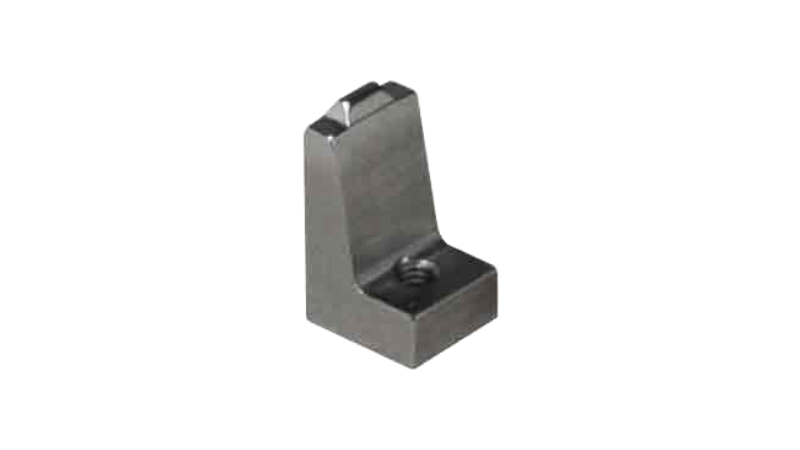 Welder clasp (for a tamper-evident seal)YK02
When welded using this clasp, a hole will be made at the welded point when the package is opened.
This makes it easy to confirm that the package has been opened from the unopened state.