Specifications
| | |
| --- | --- |
| Cooling scheme | Air-cooling type |
| Control models | Temperature and humidity control |
| Cooling capacity(W) | 1200/1400 |
| Thermal capacity(W) | 2000 |
| Humidity capacity(㎏/h) | 5.2 |
| Temperature stability(℃) | ±0.2 (±0.1 when platinum resistance thermometer is attached) |
| Setting Temperature Range(℃) | 20 to 30 |
| Humidity stability(%RH) | ±1.0 |
| Setting Humidity Range(%RH) | 40 to 80 |
| Use Area Temperature(℃) | 20~35 (Temperature change gradient: Within 1℃/1h) |
| Use Area Humidity(%RH) | 10~85 (Humidity change gradient: within 5%RH/1h) (No condensation) |
| Processed air volume(m3/min) | 3.7/4.8 |
| External Dimensions(mm) | H1065×W400×D715 |
| Weight(kg) | 98 |
| Coating Color | Ivory (Y22-85B semi-gloss) |
| Blower duct connection diameter(mm) | φ100 |
| Rated voltage(V) | Three-phase AC 200 |
| Consumption Current(A) | 21.8/21.4(MAX) |
| Consumption wattage(W) | 6300/6300(MAX) |
| Humidifier / water supply(ℓ/h) | 5.2 |
| Humidifier / Water supply pressure(MPa) | 0.03~0.5 |
| Humidifier / Water temperature(℃) | 0~50 |
| Humidifier / Water supply connection port | 15A female socket (Rc: 1/2 inch) |
| Drain connection diameter | 20A female socket (Rp: 3/4 inch) |
| Refrigerant(g) | R134a 285g |
| Exhaust air volume(m3/min) | 10.0/12.0 |
| Safety circuit / Main circuit | Earth leakage breaker (30A 30mA) |
| Safety circuit / Blower | Overcurrent relay, delay timer (3 minutes), surge absorber |
| Safety circuit / Compressor | Low temperature operation prevention thermostat (18°C OFF, 20°C ON), overcurrent relay, motor protector (100°C OFF 80°C ON), surge absorber |
| Safety circuit / Heater | Overheat prevention thermostat (65℃ OFF 70℃ ON), thermal fuse (99℃), surge absorber |
| Safety circuit / humidifier | Float switch, overheat prevention thermostat (120 ℃ ± 10 ℃ OFF), Temperature fuse (119 ℃), automatic drain timer, manual drain switch, surge absorber |
| Output/Main unit abnormal output | Normal open/no-voltage (250 VAC/3 A/resistive load) |
| Output / Temperature upper / Lower limit alarm | Normal open/no-voltage (240 VAC/1 A/resistive load) |
| Output / Humidity upper / Lower limit alarm | Normal open/no-voltage (240 VAC/1 A/resistive load) |
* Cooling/heating/humidification capacity is the value when blown out from the main body when the ambient temperature is 25°C/40%RH.
* The temperature and humidity control accuracy is based on the method prescribed in JTMK01 Constant Temperature Humidistat Bath - Performance Testing Method and Performance Display Method (Japan Testing Machine Association). Only the value indicated by the temperature controller built into the air conditioner at the main unit blow off port is guaranteed to be accurate and thermal interference due to the duct etc. is not covered by the precision guarantee. In addition, the purpose of this product is to suppress temperature fluctuations in the air and so the absolute value of the temperature is not guaranteed. (A bias function for compensation is built into the system.)
*The temperature and humidity may not be controllable even if they are within the set range depending on the ambient temperature and humidity.
*Processing air flow value is taken at the main unit blowout port.
*The above-mentioned dimensions are the dimensions of the main unit. The mounting flange and protrusions are excluded.
*Current consumption and power consumption vary depending on ambient temperature and humidity and operating conditions.
*Waste heat is discharged from the device because it is air-cooled. (with optional exhaust chamber)
*When the ambient temperature drops below the operating ambient temperature, a protection device is activated to automatically stop only the compressor. Since the above-mentioned accuracy cannot be guaranteed in this case, use the equipment within the range of operating ambient temperatures.
・ Do not supply pure water or ultrapure water (conductivity: 1 μS/cm or less, specific resistance: 10 MΩ/cm or more) to the main unit.
・When the humidifier auto blow function is in operation, the temperature and humidity control accuracy may deviate from the specified range.
・Be sure to install a strainer on the water supply side of the humidifier.
・Be sure to use heat resistant piping (heat resistant to 100 ℃ of higher) for the drainage piping.
・For the actual installation, check the specifications and precautions stated in the instruction manual.
・Contact our nearest sales office if you need an instruction manual in advance for design purposes.
External dimensions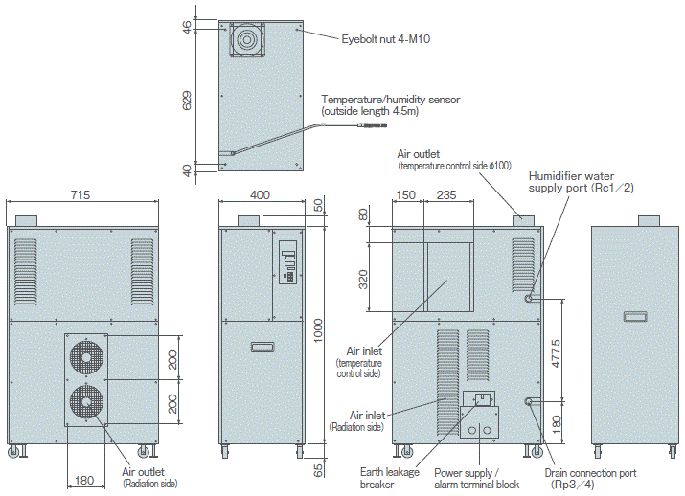 External dimensions of sensor