Specifications
| | |
| --- | --- |
| Processed air volume(m3/min)* | About 4.8/5.0 or more |
| Dust collection efficiency | 99.97% or more for 0.3 µm particles |
| HEPA filter Dimensions(H×W×D)(mm) | H610×W305×D68 |
| Number of fan motors used | 1 |
| Construction | Body: Steel plate baking finish |
| External Dimensions(mm) | H175×W365×D670 |
| Rated voltage(V) | Single-phase AC 100 |
| Consumption wattage(W) | 55/55(50/60Hz) |
| Humidifier / Water supply pressure(MPa) | Normal open/no-voltage (100 to 240 VAC/1 A/resistive load) |
Note) Average value with no load.
External dimensions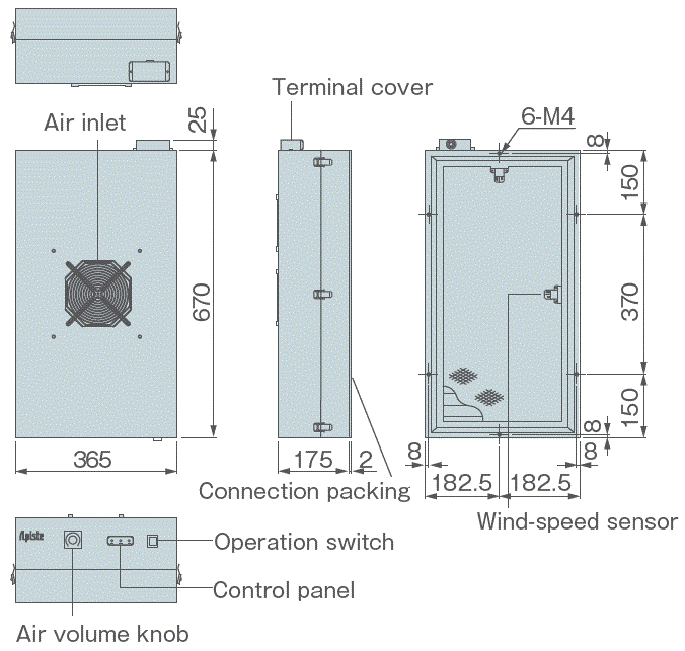 (1)Upper panel
(2)Lower panel
(3)Fan motor
(4)Fan guard
(5)HEPA filter
(6)Operation switch
(7)Control panel
(8)Terminal block
(9)Terminal cover
(10)Snap locks
(11)Wind-speed sensor
(12)Connection packing
(13)Chamber mounting screw
Panel cut dimensions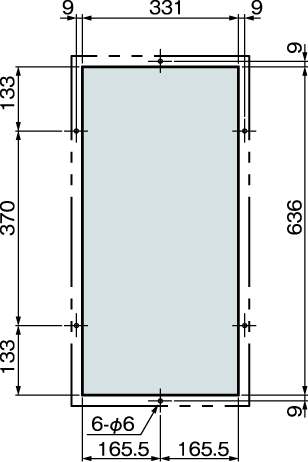 [Caution]
When mounting this device on a ceiling, make sure the booth has sufficient strength. We recommend that you use an Apiste's original custom booth.
Air conditioning control can be carried out by using this device in combination with a PAU precision air conditioner. For more information, please contact our sales representative.
The processed air flow is the average air flow from the filter surface.