Keithley's Automated Characterization Suite (ACS) is a flexible, interactive software test environment designed for device characterization, parametric test, reliability test, and even simple functional tests. ACS supports a wide array of Keithley instrumentation and systems, hardware configurations, and test settings, from a few bench-top instruments for use in a QA lab to fully integrated and automated rack-based test systems. With ACS, users are able to configure their instrumentation using the automated hardware management tool and perform tests quickly without the need for programming knowledge.
Flexibility with Programming Preferences for Characterization Applications
ACS features Script Editor, an independent tool with graphical user interface for developing Python code and TSP® scripts for performing instrumentation control, data analysis, and system automation. It offers intuitive ways to create and develop GUI design and manage user libraries and modules.
Automate Your Data Gathering Processes
The wafer prober automation option for ACS makes it easy to interface a variety of popular semi- or fully-automatic wafer probe stations into your test setup to capture large amounts of data quickly. This option includes a wafer description utility, real-time wafer maps with binning capabilities, a cassette sample plan utility, and a post-test cassette and wafer review utility. Many of the tools and capabilities built into ACS enhance automated device characterization.
Share Test Projects and Results
ACS offers a common set of key elements that work across a wide range of hardware configurations, reducing time and increasing productivity. Systems perform consistently from one hardware implementation to another, so, for example, it's easy to transfer your knowledge of an ACS-based system used in single-device component characterization to another designed for wafer level testing.
Maximize the Productivity of Your Keithley Hardware
The tools in ACS simplify test development and maximize the speed of each Keithley instrument linked into the system. Together, ACS and Keithley TSP-based hardware offer the highest throughput in the industry to lower the cost of test without requiring you to spend time learning new programming concepts or languages before getting the data needed to accomplish your goals.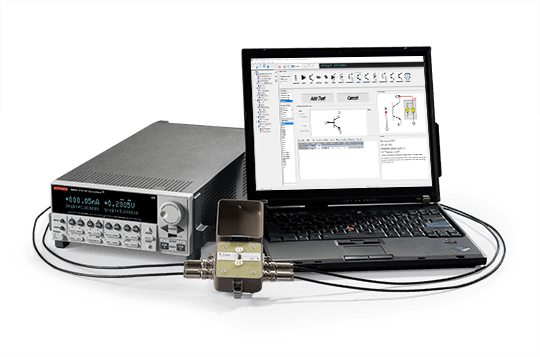 Supported instruments
Instrument Type
Model
ACS Edition
SMU Instruments
2600B Series: 2601B, 2602B, 2604B, 2611B, 2612B, 2614B, 2634B ,2635B, 2636B
2600A Series: 2601A, 2602A ,2611A, 2612A, 2635A, 2636A
2400 Graphical Touchscreen Series: 2450, 2460, 2460-NFP, 2460-NFP-RACK, 2460-RACK, 2461, 2461-SYS, 2470
2400 Standard Series: 2401, 2410, 2420, 2430, 2440
2606B High Density: 2606B
2650 Series for High Power: 2651A, 2657A
ACS Basic
ACS Standard
Parameter Analyzers
4200A
ACS Basic
ACS Standard
DMMs
DMM7510, 2010 Series
ACS Basic
ACS Standard
Switching Systems
707A/B, 708A/B, 3700A
ACS Basic
ACS Standard
Pulse Generators
3400 Series
ACS Basic
ACS Standard
Probers
TEL P8/P12, TEL T78S/80S, ACCRETECH (Tokyo Semitsu) TSK9/UF200/UF3000/APM60/70/80/90, MPI SENTIO TS2000/TS2000-SE/TS2000-HP/TS3000, FormFactor (Cascade) Summit 12000, FormFactor (Cascade) S300, Suss MicroTec PA200/Cascade CM300, Electroglas EG2X/EG4X, Wentworth Pegasus 300S, Signatone CM500, Yang Sagi3, Micromanipulator P300A, Vector Semiconductor AX/VX Series, Apolowave AP200/AP300, MJC AP-80, Semiprobe SPFA Prober
ACS Standard