Popular Model of Drop Test for Packaging
This is a drop tester for packaging that has an air-driven cylinder and tension spring that functions by releasing the sample faster than the free falling speed, aiding the free falling of test sample. This system allows for a dramatic improvement in the falling posture of the test sample and a faster testing cycle. You can conduct accurate drop test using this model.
Features
Specialized for packaged freight
Wide range of test samples
High Reproducibility
Easy Maintenance for Long Term Usage
Easy-to-Use Test Settings
Simple Setting by Simple Construction
Applied Standard
ISO 2248
ASTM D5276
IEC 60068-2-31
Applications
Free drop test of packaged freights.
Fragility test of products.
Option for DTS
Support Jig for corner/edge drop
Basement for drop test at low height
Safety installations
(Safety fence, Mat-switch, Photoelectric Sensor)
Shock acceleration measuring device Shock Manager(Model:SM-500)
Mechanism diagram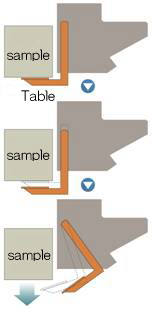 Specification
Model
DTS-50
DTS-80
Specimen max weight(kg)
50
80
Specimen max size (mm)
W900 × D510 × H900
W900 × D575 × H900
Drop height range (mm) ※
200 ~ 1200
200 ~ 1800
Operation with drop test
High-speed vertical & rotational motion.
Capacity (kg)
300
420
Size (mm)
W920 × D1480 × H1975
W1000 × D1750 × H2583
Power supply
AC200V, 3 phasese, 5A
Air pressure (MPa)
0.6 or more
0.7 or more
※ Depends on standard specification (Maximum drop height can be customed)