Drop Tester for Mobile Products such as mobile phone, smart phone, tablet, laptop.
DT-205 / DT-205H are drop testers designed for products, containers and packaging materials ,weighing up to 5kg. They can be used for drop testing in a broad variety of in-dustrial products, including electronic devices such as note-book PC and HDDS, medical products, cosmetic and food products.
Features
Specialization to light and small specimen
High Reproducibility
Easy Maintenance for Long Term Usage
Easy-to-Use Test Settings
Easy-Installation to any Location
Simple Setting by Simple Construction
Applications
Drop test for food, medicine, cosmetics.
Drop test for Laptop computers and electrical equipment.
Drop test for packaged goods and various samples.
Applied Standard
IEC 60068-2-31
JIS C 60068-2-31
Analysis system with high-speed camera
Detail drawing of supporting base.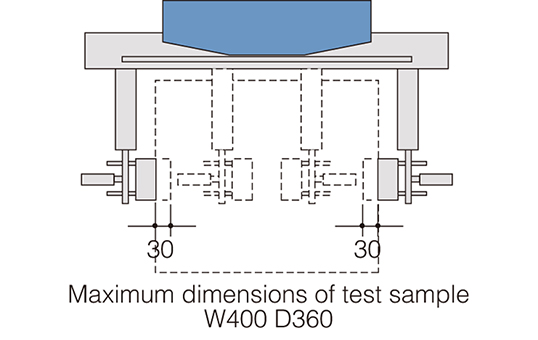 Specification
Model
DT-205
DT-205H
Specimen max weight (kg)
5
Drop height range (mm)
500 ~ 1500 (posture holding fall)
250 ~ 1500 (free liberation fall)
500 ~ 2000 (posture holding fall)
250 ~ 2000 (free liberation fall)
Setting of drop height
Scale and pointer
Falling motion of support table
By electric magnet
Holding / Releasing specimen
Air pressure pen cylinder
Size (W × D × H mm)
700 × 600 × 2400
900 × 800 × 3000
Weight (kg)
about 180
about 280
Power supply
AC100V, single phase, 5A
Supply Air Pressure (MPa)
0.69 or more
Usage environment temperature range (℃)
5 ~ 35 (JIS test location Standard temperature state Class 4)