Specifications
| | |
| --- | --- |
| Mount type | Inside side-mount |
| cooling method | Ultra-tube type heat conduction (Heat pipe) Completely CFC-free (Using pure water) |
| Rated capacity (W/K) | 30/35 |
| Use Area Temperature (°C) | 0~60 or less |
| Use Area Humidity (%RH) | 10~85 (No condensation) |
| External dimensions (mm) | H710×W198×D100 |
| Weight (kg) | 6 |
| Coating Color | Molten zinc plated / Unpainted |
| Rated Voltage (V) | Single-phase AC 200 |
| Consumption Current (A) | 0.48/0.42 (MAX) |
| Restraint current (A) | 0.74/0.64 (MAX) |
| Consumption wattage (W) | 62/60 (MAX) |
Note: The (R) in the model name indicates that the model is compliant with RoHS directives.
Note: Rated capacity: Heat exchange capacity when the temperature difference inside and outside the panel is 20K.
Note: Constraint current: Maximum current when the motor is in a constrained state.
Attached parts list
Note: Check with our sales representative as the delivery lead time varies depending on the inventory status.
*Note that the model, specifications and other details described are subject to change without notice.
External dimensions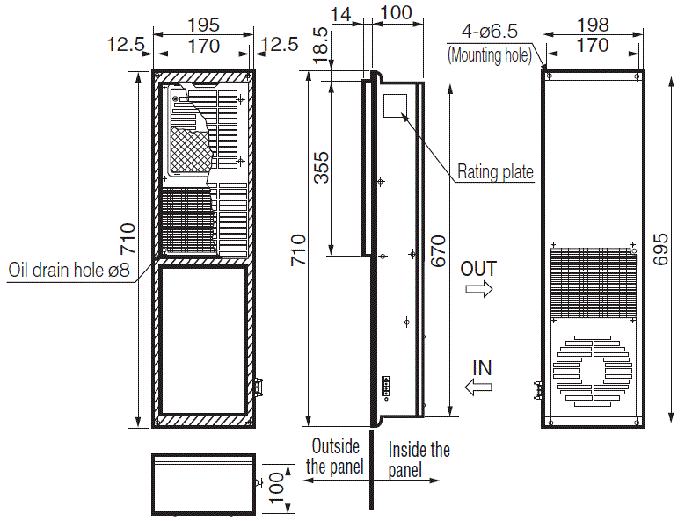 Diagram of Panel Cutout (Standard panel cut)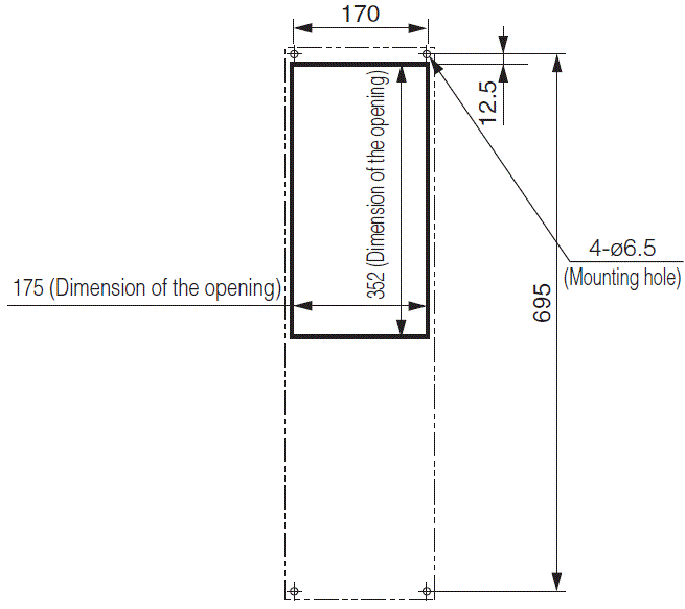 *Figure seen from control board outside.
*Please keep screw pace on the occasion of processing.
*Standard panel cut will not be changed even if a model change is carried out (some exceptions apply).
[Caution]
To ensure proper operation of this equipment, read the operation manual before use.
Depending on model and quantity, separate charter delivery may be arranged (additional costs apply).
Overseas at the time of delivery, we recommend packing for overseas separately.
Cause of failure and be used at the rated power supply out of range.
Secure the front cover with a tightening torque of 4.9 to 7.4 Ncm.
Please use the service and maintenance on a regular basis.
Failure to maintain regular maintenance, you may be a factor in product performance degradation trouble.
The heat pipe may rupture when it is heated to a temperature of 200 ℃ or higher. Do not throw it into a fire.
When disposing, make a notch on a part of the heat pipe.