Specifications
(50/60Hz)
| | |
| --- | --- |
| Mounting type | Side-mounting |
| Cooling capacity(W) | 2000/2200 |
| Setting Temperature Range(℃) | 25~45 |
| Use Area Temperature(℃) | 20~55 |
| Use Area Humidity(%RH) | 10~80 (No condensation) |
| External dimensions(mm) | H1000×W400×D230 |
| Weight(kg) | 43 |
| Coating Color | Munsell 5Y 7/1 Equivalent color of light beige |
| Rated Voltage(V) | Three-phase AC200 |
| Consumption Current: Rated(A) | 3.0/2.5 |
| Consumption Current: MAX(A) | 3.3/3.0 |
| Starting Current(A) | 31/30 |
| Consumption wattage: Rated(W) | 490/570 |
| Consumption wattage: MAX(W) | 690/810 |
| Cooling water / Temperature range (℃) | 10~40 |
| Cooling water / Flow rate (ℓ/min) | 8 |
| Cooling water / Pressure (Mpa) | 0.2~0.5 |
| Noise Resistance | LEVEL4 by Fast Transient / Burst Immunity Test |
| Vibration Resistance | 5Hz frequency 20mm total amplitude |
| Refrigerant / Fill ration(g) | R134a 200g |
| Noise (dB (A)) | Approx. 62/62 |
| External Output | Alarm output (No-voltage/normal open: resistive load 250V 2A) |
| Display | Internal temperature/Error display LED/RUN LED |
Note)
Cooling capacity : Rated capacity value when external temperature is 35°C, internal temperature is 35°C-40%, Cooling water inlet temperature 35 ℃, supply water amount 8 ℓ / min. (measurement conditions:JIS-B-8615 air enthalpy method))
MAX value: use area temperature at the maximum use area temperature allowed, use area humidity of 40%RH.
Use the product keeping the use power supply and voltage; within ±10% of rated power supply and rated voltage.
Reading an instruction manual well certainly before use and please use it right.
Accessories list
| | |
| --- | --- |
| Drain hose | 3m |
| Hose band | 1 |
| Spacer | 6 |
| Instruction manual | 1 |
Replacement parts list
| | |
| --- | --- |
| Condenser side Fan | Circulating fan for NW2200L |
| Control PCB | Substrate for NW2200L |
Note: Check with our sales representative as the delivery lead time varies depending on the inventory status.
*Note that the model, specifications and other details described are subject to change without notice.
External dimensions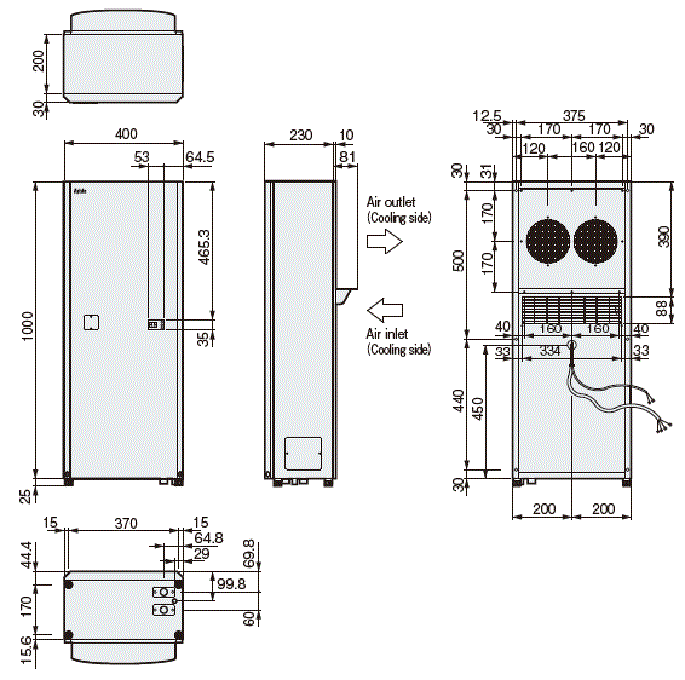 [Precautions for cooling water piping]
Lay the piping accurately at the inlet and outlet side of the cooling water.
If the amount of cooling water decreases significantly, the protection circuit of the cooler may be activated.
Diagram of Panel Cutout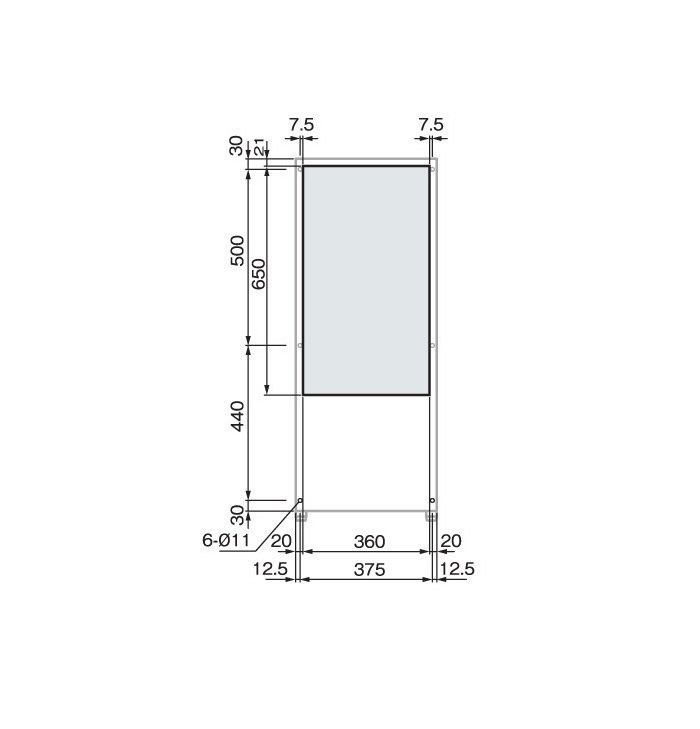 [Standard panel cut]
*Figure seen from control board outside.
*Please keep screw pace on the occasion of processing.