Specifications
(50/60Hz)
| | |
| --- | --- |
| Mounting type | Side-mounting |
| Cooling capacity(W) | 400/450 |
| Setting Temperature Range(℃) | 25~45 |
| Use Area Temperature(℃) | 25~45 |
| Use Area Humidity(%RH) | 10~85 (No condensation) |
| External dimensions(mm) | H450×W300×D115 |
| Weight(kg) | 13 |
| Coating Color | Munsell 5Y 7/1 Equivalent color of light beige |
| Rated Voltage(V) | Single-phase AC100 |
| Consumption Current: Rated(A) | 3.4/3.2 |
| Consumption Current: MAX(A) | 3.6/3.7 |
| Starting Current(A) | 7.4/7.7 |
| Consumption wattage: Rated(W) | 280/300 |
| Consumption wattage: MAX(W) | 320/360 |
| Vibration Resistance | Equivalent to JIS Z 0200 Level1 |
| Dust prevention / dust proof protection class | Equivalent to IP54 (internal circulation route) |
| Refrigerant / Fill ration(g) | R134a 90g |
| Noise (dB (A)) | Approx. 59/62 |
| External Output | Alarm output (No-voltage/normal open: resistive load 250V 2A) |
| Display | Internal temperature/Error display LED/RUN LED |
Note)
Cooling capacity : Rated capacity value when external temperature is 35°C, internal setting temperature is 35°C. (measurement conditions:JIS-C-9612 air enthalpy method))
Use area temperature / humidity : Use area temperature / humidity is not meant to satisfy all conditions in temperature and humidity.
Rating Value : 35°C ambient temperature, ambient humidity RH 40%.
MAX value: use area temperature at the maximum use area temperature allowed, use area humidity of 40%RH.
Use the product keeping the use power supply and voltage; within ±10% of rated power supply and rated voltage.
Reading an instruction manual well certainly before use and please use it right.
Accessories list
| | |
| --- | --- |
| Mounting bolt for main unit | 6 (M6×L20) |
| Drain hose | 2m |
| Insulation lock ties | 1 |
| Spacer | 6 |
| Instruction manual | 2 |
Replacement parts list
| | |
| --- | --- |
| Condenser side Fan | Circulating fan for G451S |
| Evaporator side Fan | Outside air fan for G451S |
| Filter | ENC-F-35(2 pieces) |
| Control PCB | Substrate for G451S/G452S |
Note: Check with our sales representative as the delivery lead time varies depending on the inventory status.
*Note that the model, specifications and other details described are subject to change without notice.
External dimensions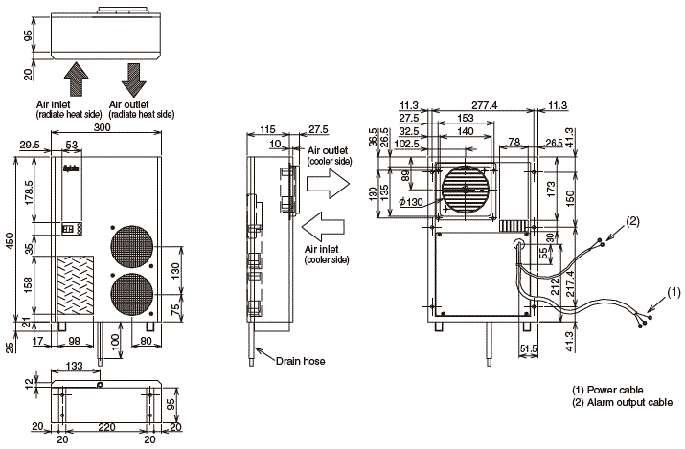 (1) Power line : Cord length 3m
(2) Alarm Output Line : Cord length 1m
Diagram of Panel Cutout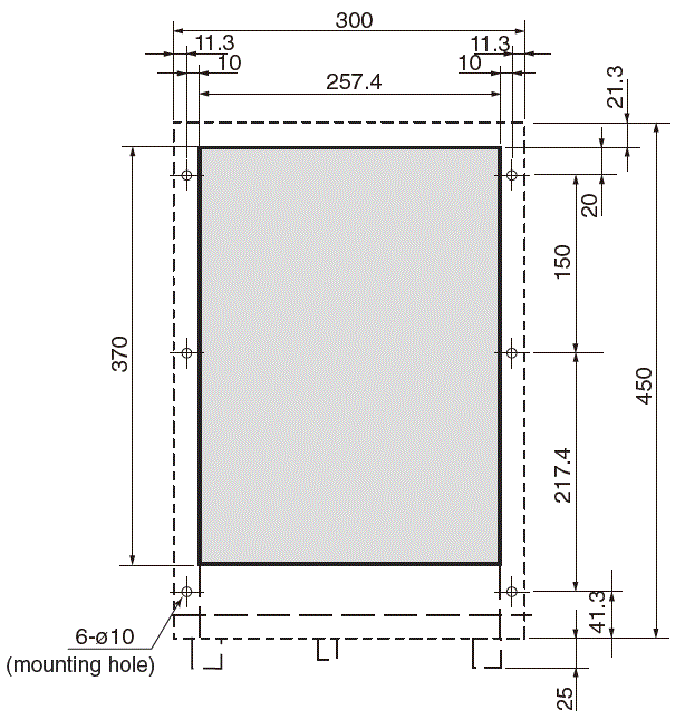 *Figure seen from control board outside.
*Please keep screw pace on the occasion of processing.
*Standard panel cut will not be changed even if a model change is carried out (some exceptions apply), but the minimum panel cut dimensions are subject to change without notice.