The System SourceMeter® 10 µsec Pulser/Source Measure Unit (SMU) Instrument combines the power of a high current/high speed pulser with measure and the full functionality of a traditional SMU in a single instrument. Its impressive 10 A @ 10 V at 10 μs pulse width and full 1 MS/s digitizing capabilities significantly boost productivity in applications ranging from benchtop characterization through highly automated pulsed I-V production test.
CHANNELS
PULSER V/I RANGE
SMU V/I RANGE
ACCURACY
MAX SPEED
1 Pulser / 1 SMU
1 μA – 10 A
1 μV – 10 V
100 fA – 10 A
100 nV – 40 V
Pulser: 0.05%
SMU: 0.015%
1 M readings/s
Achieve high pulse fidelity without manual pulse tuning
The 2601B-PULSE's control loop system eliminates the need to manually tune for load changes up to 3 μH, ensuring your pulse has no overshoot and ringing when outputting pulses from 10 μs up to 500 μs at any current level up to 10 amps. With pulse rise times < 1.7 μs, you can properly characterize your device or circuit under test.
Output 10 A @ 10 V with a 10 μs pulse width
Pulse rise time <1.7 μs to characterize with confidence
High fidelity pulse output without tuning at any current level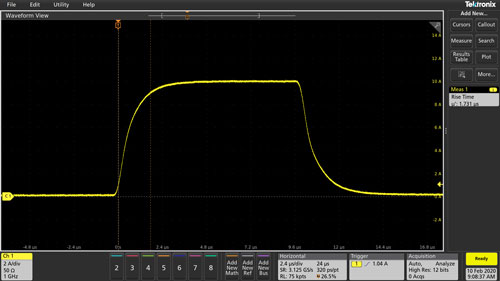 Incorporates the functionality of a fast pulser and SMU in one instrument
The 2601B-PULSE adds pulser functionality to the superior measurement integrity, synchronization, speed, and accuracy you know from the industry-leading Keithley 2601B SMU instrument.
Pulser 0.05% basic measure accuracy with 1 MS/s digitizing
SMU 100 nA low current range with 100 fA sensitivity
Rear panel BNC connections for quick cable setup
Embedded scripting and connectivity for unmatched production throughput
Test Script Processor (TSP®) technology embeds and executes complete test programs inside the SMU instrument to deliver industry-best performance. TSP-Link® technology enables expansion of up to 32 TSP-Link nodes for creating high-speed, SMU-per-pin parallel testing without a mainframe.
Eliminates time-consuming bus communications to and from the PC
Advanced data processing and flow control
Connect up to 32 TSP-Link nodes
Reconfigure easily as test requirements change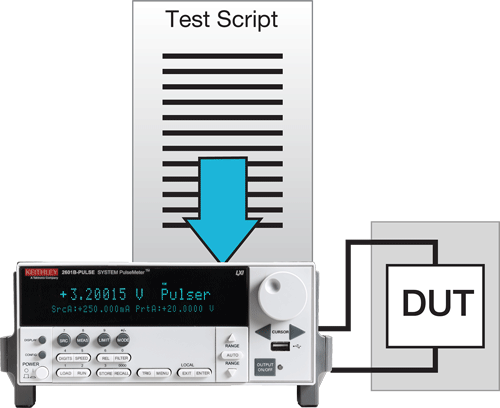 Model
Channels
Max Current Source/Measure Range
Max Voltage Source/Measure Range
Measurement Resolution (Current / Voltage)
Power
2601B-PULSE

1

10 A

40 V

100 fA / 100 nV

Pulser: 100 W instantaneous
SMU: 200 W instantaneous